Kenneth de Graaf Discusses PGE Industry Changes Based on Increasing Demand and Decreasing Supply from South Africa and Russia
By Allen Alper  
on 4/7/2014
Metals News took the time to speak with Kenneth de Graaf, Senior Vice President and a Director of Minfocus Exploration Corp. to discuss the changes to the palladium and platinum markets that have been occurring over the last few years. With global demand increasing due to the increase in manufacturing of cars, the supply of palladium and platinum are simply not meeting the demand.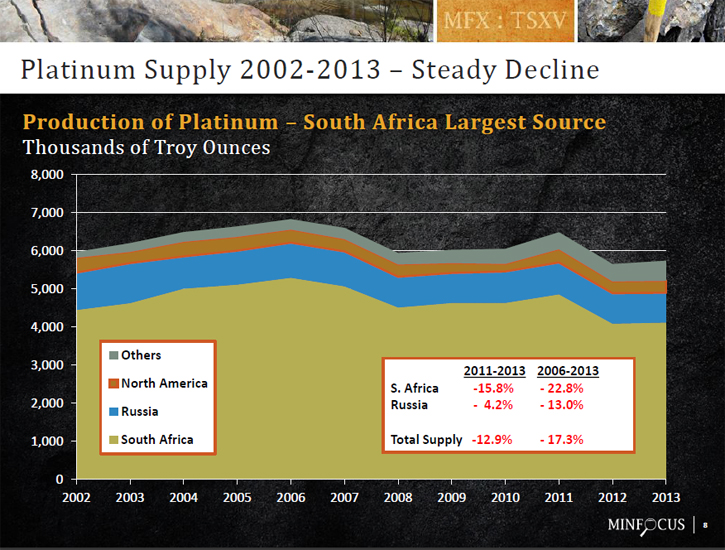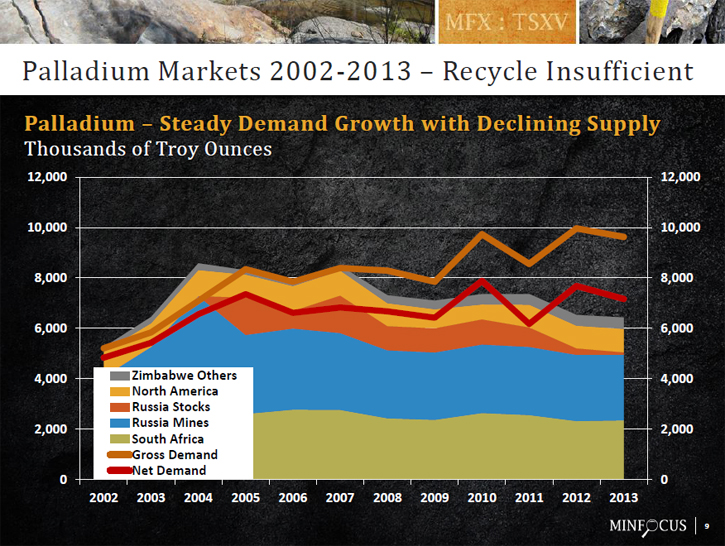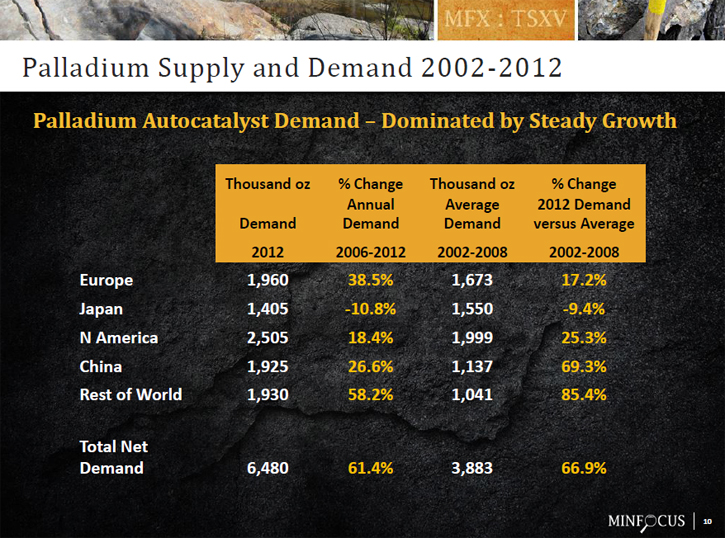 Kenneth de Graaf said, "The price of platinum and palladium is going to go up or there will be less of it available." He feels that the issues with the pricing are based on mining and energy issues occurring in South Africa. Mr.de Graaf said, "There is a much deeper problem in South African mining. The first generation of mines was 600 to 1000 meters deep. The next generation, which is nearing completion, is over 1000 meters below surface. The third generation, which is in development is 1500-2500 meters deep."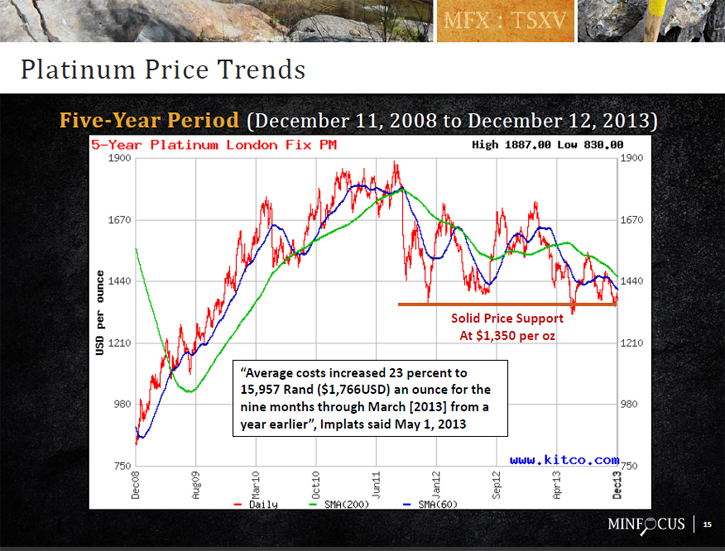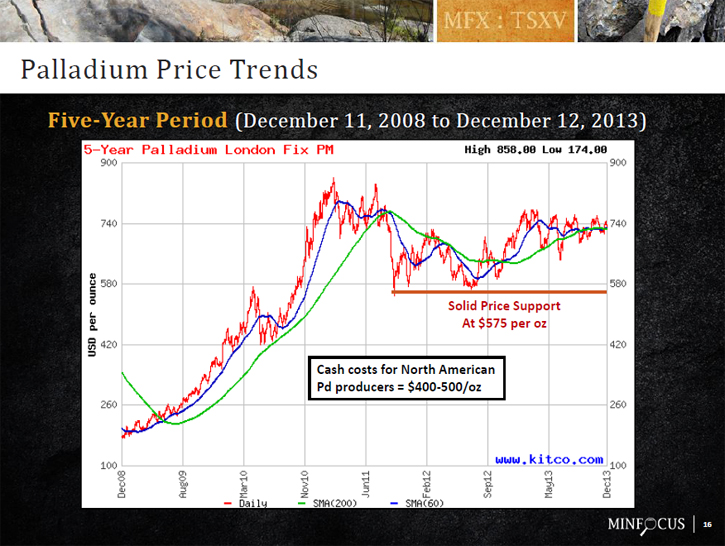 These third generation mines, with incredibly deep shafts present a unique set of issues to the palladium and platinum markets. Kenneth de Graaf said, "They are really deep mines and really labor intensive. The deeper they go the more labor they need. Because of the temperatures, the men can't work as long and they are finding that the grades are lower." These issues with mine depth cannot be solved with additional labor. Mr. de Graaf said, "This is an intrinsic problem that will not go away after labor disputes are settled. Where most of the known deposits in Ontario are less than 500 meters that is a different scenario than we see in South Africa. This is important to keep in mind when thinking about the situations in South Africa."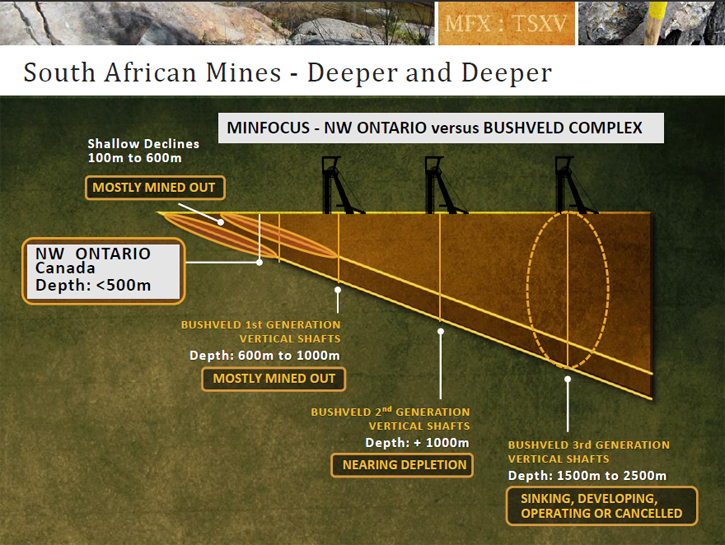 The industry is working to identify ways to deal with additional needs for palladium and platinum. Kenneth de Graaf said, "Demand is up to 8 million ounces per year for platinum in 2013. During the same period, palladium had a deficit of 1 million ounces per year. That is almost a 2 million ounce swing from an oversupply in the previous year. Russia has made sales from their national reserves of palladium, but these appear to be mostly exhausted. On the other hand, demand for palladium has continued to increase – up to 9 million ounces in 2013 – because of the recovery of the automotive market. In November of 2013, the platinum deficit in the market had doubled to over 600,000 ounces. Strong demand means we need 8 million ounces. This increased deficit is expected to continue this year."
Some of the demand is being met by recycling, but it is not meeting all of the additional needs of the market and manufacturers. Kenneth said, "Despite record recycling, demand is still not being fully met. That is the underlying scenario here. The single biggest consumption of platinum is auto catalysts. Everyone has a catalytic converter on their cars and trucks. The most stringent requirements for these are in Europe and North America." A few years back, the demand was not so great as a result of the global recession that dampened car sales. Said Mr. de Graaf, "The demand dropped off between 2006 and 2007. There still continues to be a deficit in supply." While the prevailing thought is that recycling of palladium and platinum will help to make up the supply issues, Kenneth de Graaf doesn't think that is the case. He said, "There is commentary in the media that recycling should make it up, but the reality is that isn't happening. The supplies of platinum have been declining since 2006. South Africa has made up the majority of that, with Russia in second place. We have seen a 17% drop in the supply of platinum. It is partially made up by recycling, but not totally."
The two primary suppliers for palladium and platinum are South Africa and Russia. Mr. de Graaf said, "Palladium is supplied equally by South Africa and Russia. In 2006 and 2007, there was an increase in supply because of a Russian reserve that was being sold. In 2013, there is very little Russian state stock left. There is a small amount coming out of North America from Montana and Ontario. There is still a demand that is not being met by the mines. There has been a steady decline in supply."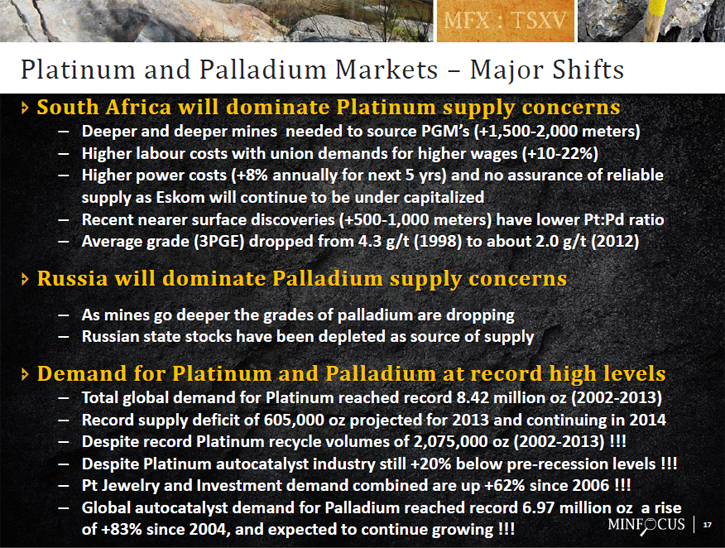 Palladium is critical for the automotive market. Said Kenneth de Graaf, "Palladium is about 80% consumed by gasoline engine automobile catalysts. Globally, the demand for auto catalysts increased more than 66% from 2003 to 2008. The biggest increase has been in China and other places in the world. The palladium consumed by China is nearly what is consumed by Europe. There is a steady increase in demand for palladium."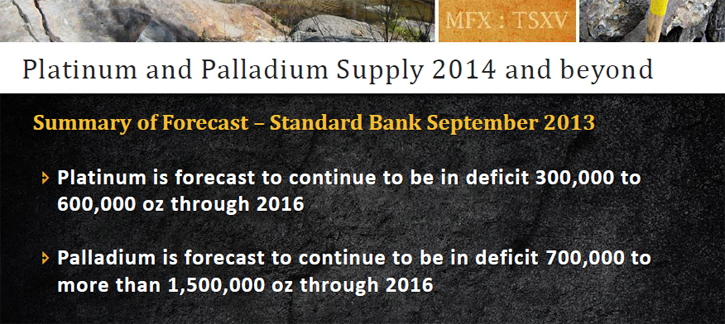 The need for palladium and platinum will reach critical levels in the next four years. Mr. de Graaf said that, "Above ground reserves by 2018 will be less than one year. One way or another, the platinum supply is getting pinched." The issues in South Africa are also contributing to the issues with the palladium and platinum markets, with labor strikes, wage issues and power costs being the most common challenges. Kenneth said, "The most recent strike in South Africa is demanding a doubling in wages. This is a very significant increase. When the strike is over, you will likely see a settlement in the double digits. The unions will not get their 100% increase, but they will get something. Since January 25, when the South Africa strikes began, the platinum producers have lost more than 9.0 billion Rand ($840 million USD) and workers have lost over 4.0 billion Rand ($370 million USD), which gives a clear view of what impact of increased labor costs will have. Labor cost is having a significant effect on mines in South Africa. Power costs have also increased by 16% each year for the past 5 years. Recently, Eskom has been granted an increase of 8% annually for the next 5 years. The power industry in South Africa has been grossly undercapitalized and they are trying to play catch up. Despite these increases, they are unable to build the infrastructure. There is a shortage of power. In the past, Eskom has provided for domestic power needs first and does rolling blackouts for the mining industry."
"With over 40% of the South African platinum mines reported to operating at a loss, we can expect some major shifts in the global platinum and palladium markets in the near future", concludes Kenneth de Graaf. The world will need to start looking for alternative sources of supply of PGE's, and North America will be one of the areas with the most stable jurisdictions to explore for new mines.
Source:  http://www.metalsnews.com/Metals+News/MetalsNews/Allen+Alper+Jr./FEATURED865105/Kenneth+de+Graaf+Discusses+PGE+Industry+Changes+Based+on+Increasing+Demand+and+Decreasing+Supply+from+South+Africa+and.htm